At MOG we like to offer our patients the very best in orthodontic technology, and as part of the many options available, we are proud to offer our patients both the Damon System Clear braces and the Invisalign clear aligner system.

Each has its benefits and limitations, and not all treatments are appropriate to all orthodontic problems – so you may find that your choices are limited by the treatment that you require.  When you visit us at MOG for your free orthodontic assessment, we will be able to advise you of your options and determine the most efficient path to straight teeth and a healthy bite.
The information here is just a brief overview of the two most commonly used systems – but we'll explain in much more detail when we meet you, and we'll even have some models for you to look at.
We love to share our knowledge, so book your free consultation at one of our 5 locations, and let us make you smile!
Why fixed appliances?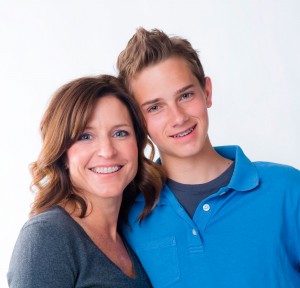 There are some orthodontic problems that simply cannot be treated with removable aligners. However, many patients who can have the choice, opt to have fixed braces simply for their ease of use.
There are no aligners to remember to change regularly or remove when eating and drinking (and potentially lose!).
You simply have the braces fitted and let the appliance do the work for you, 24 hours per day!
The Damon System is available with a clear bracket preferred by many adult patients, or a traditional metal bracket.  If you click on the photo to the left you will see the almost invisible Damon Clear bracket system on the mum, the son wears regular metal Damon braces, which thanks to their small size are also quite discreet.
To help you understand a bit more about how the Damon System can work for you, visit our Damon Braces page.
Clear Aligner systems.
At MOG we predominantly use Invisalign or SPARK clear aligners.
Invisalign and SPARK use a series of clear aligners that are custom-made to gently reposition your teeth.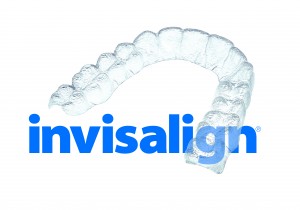 The success of your treatment is completely dependent on your co-operation with wearing your aligners as often as possible, and changing them at the appropriate times – so if you are prone to forgetfulness or not too good at following instructions…this may not be the right course of treatment for you! Most people interested in aligner treatments are attracted to the fact that the aligners are clear, making it difficult to spot that you are wearing them.  They must be removed for eating and drinking, and you need to be careful not to lose them – trust us, many a removable appliance has been accidentally thrown out wrapped in a napkin at a restaurant!
With removable aligners, it is easy to maintain good oral hygiene because you can brush and floss normally.
Removable aligners are generally great for minor crowding and spacing issues.
Visit our Invisalign page to find out more about the Invisalign System.
Visit our SPARK page to find out more about the SPARK system.