How can I get a free orthodontic appointment?
Just ask us for one! We believe you should get to know your new orthodontist and explore all your options before you commit to treatment. That is why we decided to offer a free initial consultation to all new patients at MOG Orthodontics.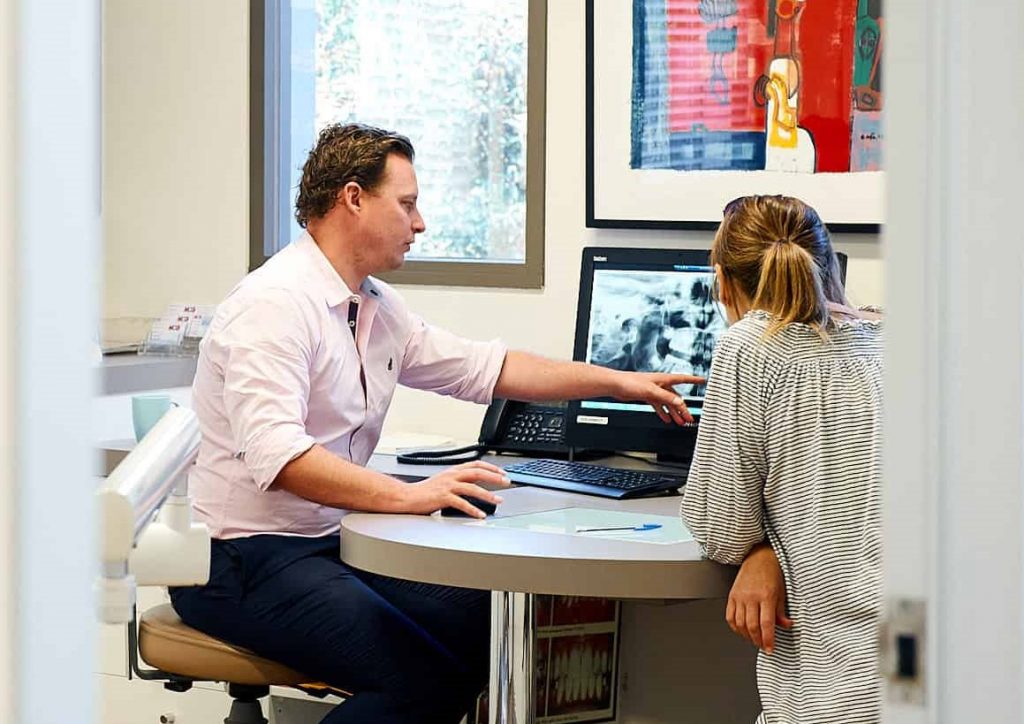 Are there any terms & Conditions attached?
There are, but they are very simple;
Your consultation is with a Specialist Orthodontist and treatment co-ordinator.
Offer only applies to the initial consultation for new patients.
Should you be unable to attend the appointment time arranged for you, you must provide us with a minimum of 24 hours notice or the complimentary consultation offer becomes void and a standard consultation fee of $120 will apply to any future initial consultation booked.
Free offer is only valid for one consultation per person with a specialist orthodontist of your choice at MOG.
What happens at my free orthodontic consultation?
After making sure we have your full medical history, your orthodontist will undertake an examination of your teeth, jaws and face. Including an assessment of any x-rays you might have, to help us complete a comprehensive evaluation. Patients who may be ready for treatment will also have diagnostic pictures taken to assist with your assessment. These will be referenced throughout your treatment and used to monitor your progress.
Your orthodontic consultation includes our advice on what is needed to correct your bite and ensure that your jaws are correctly aligned, as well as give you a beautiful smile. We will also discuss your smile goals and any discomfort you experience or needs you have, so we can integrate them into our recommended treatment plan.
What will I learn at my orthodontic consultation?
The main objective of this appointment is that you leave with the following information;
Understanding your orthodontic problem
Available treatment options
Customized treatment goals
Whether you may need to have any teeth removed
Whether you will need other services such as surgery or a visit to your dentist to prepare for a treatment start
An estimate on treatment time
An outline of the cost of your treatment and payment plan options.
Should I prepare questions to ask the orthodontist?
It is a good idea to have some questions ready so that you don't forget to ask about anything that concerns you. If you do forget anything or think of something later, you can always call or email us. We know these appointments can be a bit overwhelming.
If you want a handy list of questions to ask, you can download our cheat sheet here.
Will you tell my dentist about the consultation and your recommendations?
If you have been referred to us by your general dentist and you decide to proceed with treatment, we will send them a report outlining our treatment plan and advising them of any potential issues that we might need to them to address before we start.
However, if you prefer not to inform your dentist, you only need to let us know.
What happens if I have a cavity?
If we are concerned about the health of any of your teeth, we will refer you back to your general dentist for any repairs or maintenance work. Your teeth should be in their best possible condition.
We cannot perform any dental repairs, so you must take the best possible care of your teeth during your treatment. That includes proper preparation before starting. We recommend that you continue to visit your dentist every six months to monitor your oral health. This will ensure that your treatment outcome is a healthy smile for life and a result that you can be truly proud of.
Will the initial exam cause any discomfort?
Perhaps when we are taking our initial photographs and we ask you to stretch out your cheeks to show your teeth – but that's about it! So no, the exam does not require any procedures that will cause you any discomfort.
How long will the appointment take?
We allow up to 30 minutes for our initial consultation appointments. This includes time for taking photographic records; your examination; and a discussion about your treatment options and goals, and financial commitment.
By the time you are ready to leave, we hope that you will have all the information you need to make an informed decision.
Will you put braces on at my first appointment?
No. There are a few checks and steps to go through before you get your braces or any other appliance fitted.
We look forward to seeing you soon at MOG Orthodontics!