Congratulations! You have made it to the end of your active treatment. Finally, it is the day you get your braces off! Woohoo! Before you skippety-do-daa into the sunset, there is just one final part of your treatment we need to address…your removable retainers.
We've all worked so hard to get your teeth to their optimal positions, which means that the active part of your treatment is well and truly over, however, this is where the 'retention' phase of your treatment starts. It takes time for your tissues to stabilise around the new positions of your teeth and your retainers are designed to hold your teeth in their optimum position and minimise any tooth movement while everything is settling down.
How often do I have to wear my retainer?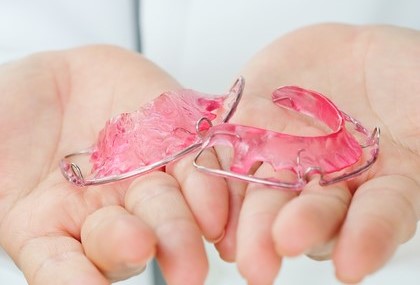 We generally recommend that you wear your retainers all the time day and night – removing them only for meals and for brushing. The risk of relapse is greatest just after your braces are removed as the supporting tissues are regaining their strength.
You will have received information in your deband kit explaining the optimum retainer wear for your circumstances.
As your teeth gradually settle into their corrected positions, we will advise when you can wear your retainers less often – though keeping them on for longer can only do good!
The ultimate goal is nighttime wear only but this is usually only recommended after at least 9 months of full-time wear.
What happens if I don't wear my retainers?
While they will never revert entirely to their original positions, your teeth may move if you fail to wear your retainers as instructed. If your teeth move because you do not wear your retainers as prescribed you may need further treatment.
The risk of relapse is the same for both adults and children and we cannot overemphasize the importance of this part of your treatment.
How long do I have to wear retainers?
Normally we recommend that retainers are worn for 9 months full time and at night only indefinitely. When you complete a 9 month period of night only wear continuing to wear your retainers will be at your discretion however, we always recommend that you wear your retainers consistently and for long as possible.
The rule of thumb is that you should wear your retainers for as long as you want to have straight teeth.
Why do my retainers feel so strange?
Remember all that time ago, when you received your upper and lower braces and how strange it all felt? Well, this is just like that. At first, you need to practice talking with it in your mouth. We often advise patients to go home, turn on your favourite tunes and sing along – you'll soon get the hang of it.
You may also notice increased saliva in the first few days too. This is normal and it will resolve eventually.
How do I look after my fixed retainer?
Your orthodontist may have prescribed an additional "fixed" or "bonded" retainer wire that is attached to the back of your teeth. You must keep this area very clean with regular brushing.
As with the removable retainers, it might feel a little strange to you at first, but over time you will become used to it and barely notice it is there. If it becomes loose or detached at any time, you should contact us, and we can advise you if you need a repair or replacement.
Research has shown that most people experience movement in their teeth as they age. Maintaining your fixed retainer and intermittent use of your removable retainer will help you enjoy your new, straight smile for life.